On an EarthSplash retreat you can expect to be an integral part of a small group to enjoy a more personal and memorable experience at an incomparable price! Tailor your yoga practice, centre with guided meditation, and benefit from personal instruction. In your free time, participate in group explorations, float, snorkel and/or dive in the salty Caribbean Ocean. Hike through tropical forests, listen to birds, or simply breathe the fresh air, and enjoy time in solitude! Our week will be spent in northeastern Tobago, recently declared a UNESCO biosphere reserve. Nestled into an isolated cliffside, our eco-friendly villa offers panoramic views of the entire village, the rainforest, and the Caribbean Ocean. Fall asleep to the sound of waves! Photos.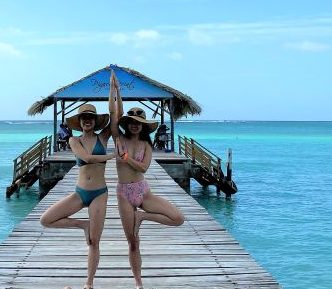 I'd like to invite you my home country!
As an experienced instructor of traditional yoga, I am delighted to offer retreats, courses, and adventure trips that are transformative and real. I look forward to hosting your week in paradise!
To enter T&T be fully vaccinated against Covid19.
I will help confirm the 2 flights from YYZ-POS and from POS-TAB. Once the group is complete we will meet in-person or online before we jet off.
Keep reading for more information, including payment terms and cancellation policy. If you have ANY questions, don't hesitate to send me a message here.
LOCATION
Recently declared a UNESCO biosphere reserve, our destination takes us off the beaten path to the most picturesque and pristine of Tobago villages. The quaint fishing village nestles on steep cliffs above the deep blue Man O' War bay, isolated by mountains and a narrow winding road.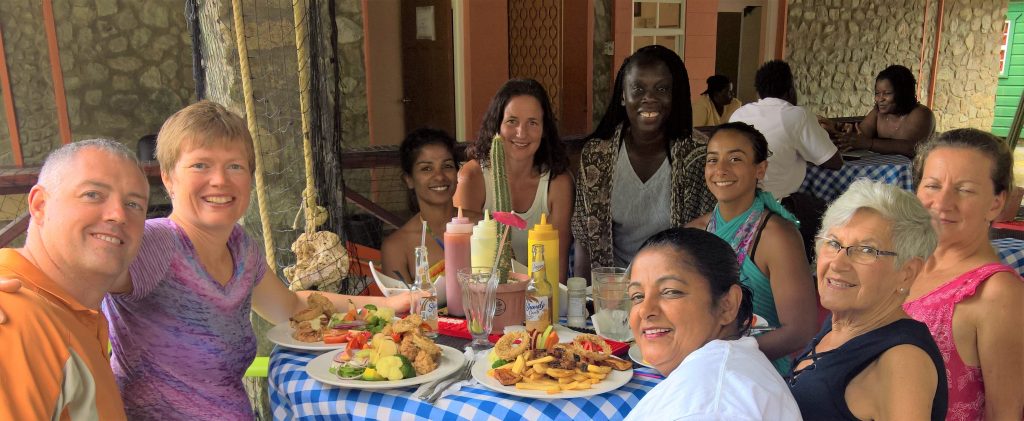 This retreat supports and integrates with the local community, culture, and cuisine. We will connect with the laid back pace of this traditional, protected Caribbean village.
OUR WOODEN VILLA
Home base is a comfortable, insect-proof, two-storey wooden villa surrounded by acres of vegetation. Enjoy breath-taking panoramic views of the hills, village, rainforest, and Caribbean Ocean. Accommodation is shared with privacy screens.
Eco-conscious efforts involve sustainable practices (design & materials, water & energy conservation, waste reduction, etc.).
Plenty of wildlife in the garden to catch your attention, including agoutis, parrots, iguanas, peacocks and a variety of singing birds. We are within walking distance to a handful of small shops, restaurants, fresh water springs, and Tobago's best beaches!
YOGA EXPERIENCE
Classes will be catered to everyone, including those without experience. Do expect personalized assistance with yoga, pranayama, and meditation practice. This week is an an ideal opportunity to nourish, recharge, and heal body, mind, and spirit.
The cuisine of Trinidad and Tobago reflects its cultural diversity – creative, eclectic, and mouthwatering! A local cook will prepare delicious meals using quality, local ingredients. The menu caters to vegans, vegetarians, and pescatarians. Depending on the season you may be picking and eating tropical fruits and vegetables from the garden!
TOURS
Depending on seasonal conditions, we have a list of group tours/activities to chose from. They can include: bay-hopping in a pirogue over the blue-green waters of the Caribbean Sea, using local transportation to visit to Tobago's popular multi-level waterfall, paddle boarding, and/or checking out local festivals and events.
Seven nights shared accommodation.
Group airport transfers (shuttle) to/from the Tobago airport to our home base.
Two group tours or activities.
Three meals (vegan/vegetarian/pescatarian) per day.
Fresh fruits, tropical juices, coffee/tea.
Sunrise yoga on the beach or deck.
Evening yoga program.
Complimentary Wi-Fi.
WHAT'S NOT INCLUDED
Everything not mentioned above, including flights, travel & medical insurance, Covid19 testing, liquor, snacks, additional tours/services, purchases made on tours, airport transfers outside of scheduled time etc.
PAYMENT TERMS / CANCELLATION POLICY (more details here)
Early Bird: A deposit of $300 required at registration to secure your spot. Please note, if the Early Bird balance is not paid by the Early Bird due date, the cost will revert to the standard price.
Full Payment: Due date is shown on the registration page.
Cancellations: You have 7 days after any payment to request a full refund. After that the payment will be completed. Receipts will only be issued after final payments are completed.
PURCHASE TRAVEL AND MEDICAL INSURANCE
Unforeseen circumstances can happen to anyone at anytime. It is essential to have travel and medical insurance. Check with your personal insurance co., credit card co., and CAA about their travel insurance plans. Also check with your group insurance company regarding out of Canada health coverage. Otherwise, look into RBC and/or Manulife for Trip Cancellation & Health Insurance Plans.
OTHER THINGS TO NOTE
Level of adventure/fitness- the villa is on a cliff and although the beach is a 5-10 minute walk away, the walk back up is steep in some areas.
Digital detox – savour this opportunity to reconnect with yourself and other like-minded individuals in a beautiful location.
Once the group is complete, we meet in-person (or online) to get acquainted, and discuss the exciting details that are not mentioned here! 🙂